Puppies with their new families!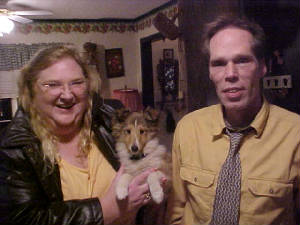 Tim and Dara traveled 4 1/2 hours from Indiana to pick up little "Oliver". They have since sent us some updates and we absolutely love hearing how he is doing. He has a "friend" to play with at home. They like to watch out the window for Tim and Dara to come home, then "SURPRISE" them when they walk in the door! What fun they must have.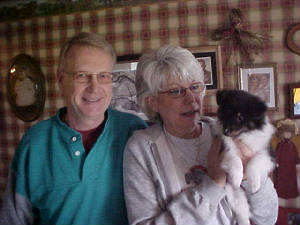 Doug and Barbara weren't sure if the time was right for a puppy. They visited and then prayed about it for a week. But after meeting the whole family, "Remy" won their favor. They headed south with their new prize. We know that their home will be a great place for Remy. What a nice family. They promised to send pictures. We certainly have been blessed by meeting them!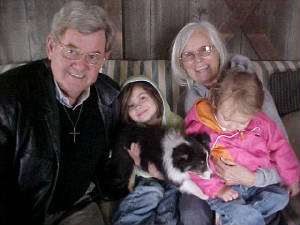 Rev. Pounds, his wife (Grandma and Grandpa) brought two grand-daughters with them from the Newark area. They took "Scotty Max" with them to his new home. What a wonderful family. We didn't get to visit with them as much as we would have liked. Since today was Good Friday, they needed to head home for church services. We had the special opportuntiy to pray together for God's healing hand in our family. Once again we were blessed!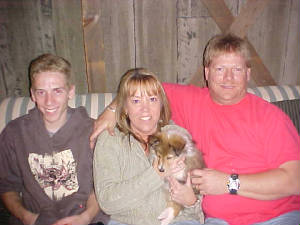 Aarron, Lori and Isaac didn't have to travel very far to get "Misty"........... just across the field! We see them at basketball games and track meets every week. "Misty" called them and asked if she could move in with them, and they said "sure!" They already have a friend at home named "Patches" and they are sure that Misty will fit right in. We are very lucky to live in an area that has people like this close by! (I'm sure we'll visit Misty often)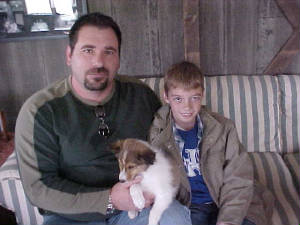 Melissa called a couple times and looked at the puppies on the internet. She called again and wanted a pup, but it would be 4 days until she could pick him up. Little did she know that husband Mike and son Dakota had other plans. With Mom at work, Dad and Dakota made the 4 1/2 hour trip from the southen tip of Ohio to adopt "Farley". We visited a short while, but they had to head home before Mom got too curious. I promised not to expose their secret until the next day. We're pretty sure these two love Mom a bunch, and so will Farley.
This little guy was adopted Tuesday, Aug. 7th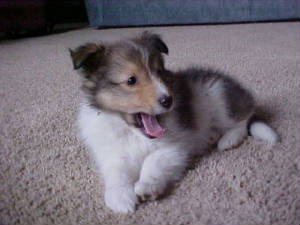 "Dart" went to live in Bucyrus with Sandra.
October 27th, 2007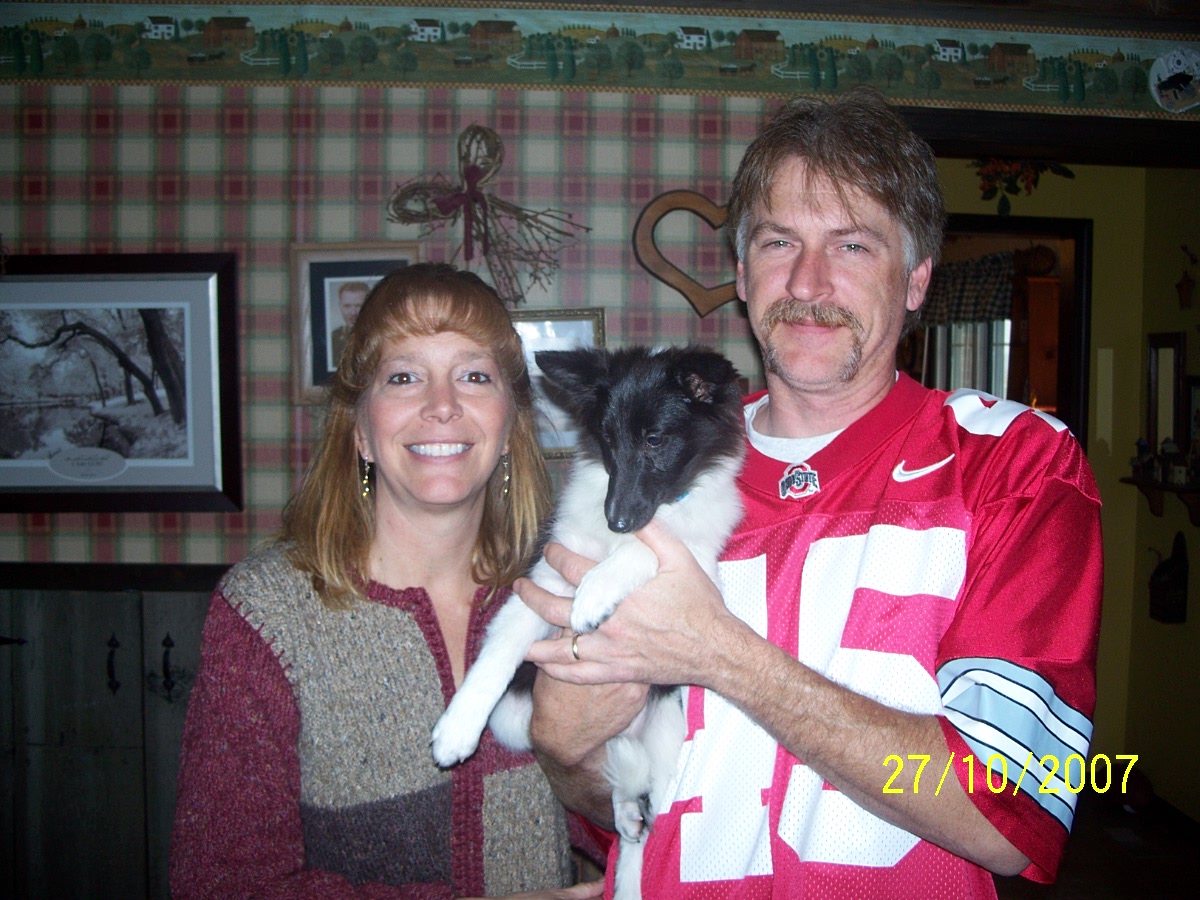 Kristy and Frank called and wanted to know about our bi-colored females. They have several other shelties, but recently had to put one down after SIXTEEN YEARS! How difficult that must have been. But they loaded up one of their other "babies" and made the 2 1/2 hour trip on Saturday. What a time they had deciding on who was going home with them. I thought they might take them ALL!!! But after a while, Korie found her way into their hearts. What a great afternoon we had getting to know Frank and Kristy. They even had photos of their other shelties. We know Korie is headed for years of love and attention.
UPDATE!!!

Kristy and Frank took little Korie home, but still struggled with leaving Debbie behind. A week went by and they still were struggling.... So by Saturday, Frank called home and asked Kristy to pick a number, and if it was the right number, he would come get Debbie. Kristy shook her head and said "Just go get her!" So a couple hours later, Frank was back picking up Debbie. They sent a photo and said that Debbie and Korie remembered each other and it is great having them. We're thrilled! What a great family!